> homepage > other games > update


fun English games with a somewhat exotic touch

Daily Hangman:
Updated daily. You can submit feedback to show your result.


This game is shared with eigo21 Japanese version. So you may have a mojibake (see Wikipedia) problem under certain circumstances. But don't let it discourage you. You can enjoy the game anyway.


And one tip you should remember: to return to this page, hit your browser's BACK BUTTON or the logo

at the top right-handed corner. If you click other buttons or links, you may be lost on the Net unless you understand Japanese!




The picture below shows the Japanese homepage of Daily Hangman.
All the part you need now is in the area surrounded by the red lines. Ignore the others.
There are two "courses"; five-miss course and ten-miss course.
In the former, five misses are allowed before you lose. And in the latter, the number is ten.
Of course the former is harder than the latter.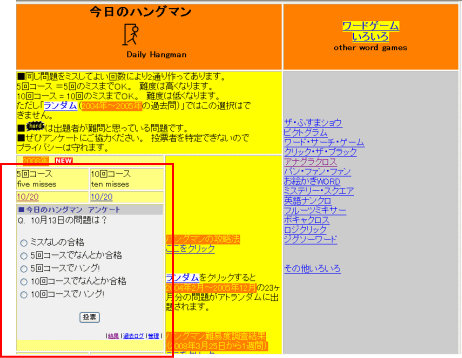 After you play, you can submit your result by way of a little feedback questionnaire, where you choose one of the following five options.
Success with no misses.
Success in "5-miss course".
Failure in "5-miss course".
Success in "10-miss course".
Failure in "10-miss course".


The picture below shows how the game goes.
(1) introduction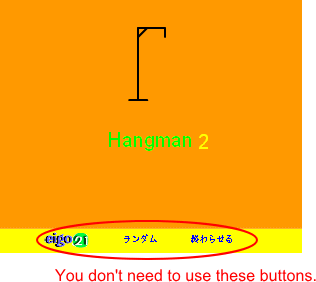 (2) explanation of the game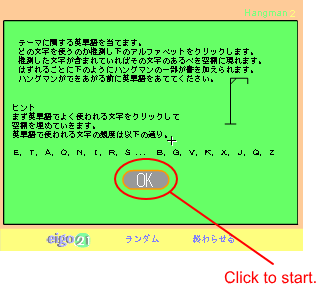 (3) today's puzzle
The aim of the game is to think up a mystery word or phrase you are supplied with.
You can refer to the subject of the puzzle as a hint, which is seen at the top right-hand corner.
All you have to do is guess a letter by clicking one of the letters on the bottom.